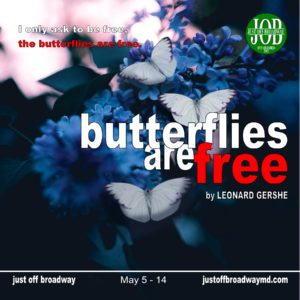 AUDITION SIDES (Click links to download)
AUDITION FORM (Click the link to download)
SYNOPSIS
Young Don Baker, hero of his mother's Donny Dark books for children, has been blind since birth, his overprotective mother following his every move. Don finally decides to take his own apartment in Manhattan and pursue his songwriting ambitions. When she meets his kooky neighbor, sexy actress Jill, Mrs. Baker's controlling instincts go into overdrive, with hilariously touching results. (Concord Theatricals)
AUDITION FORM (Click the link to download)
CHARACTER DESCRIPTIONS
JOHN BAKER (plays early to late 20s, any ethnicity) – a blind, sheltered musician recently relocated from an upscale New York suburb to gritty New York City to prove to himself and to her that he is self-sufficient and can live on his own. He is only beginning to discover who he is and what he might like to do with his life. He is appreciative of his protective mother but is ready to experience a less sheltered life. He quickly falls for his exciting and independent neighbor, but he is naïve in his expectations for their relationship.
JILL TANNER (plays late teens to early 20s, any ethnicity) – a flighty, commitment-phobe who is charming and loveable and has recently moved to New York to attempt a career as an actress. Carefree and independent trying to live her own life on her own terms. She can afford to be reckless in her decisions and relationships. She is fascinated by and attracted to Don. There is real chemistry between them, but her flighty nature rebels against the idea that Don could tie her down to a life she is ill-equipped to lead.
MRS. BAKER (plays late 40s to 60s, any ethnicity) – Don's overbearing but well-meaning mother. She does not approve of him moving away from home to New York. It is as big a step for her to let her son live independently as it is for Don to actually be living on his own. She is abrupt and controlling, but ultimately this is because she has her son's best interests at heart.
RALPH AUSTIN (plays mid-to-late 20s to early 30s, any ethnicity) – the director of Jill's new show. He is more than thrilled to have the amorous attentions of the pretty young girl. He is excited to meet Don after everything Jill has told him about Don's life. Ralph is unaware of the effect his words and presence have on everyone in the apartment when he shows up late at night with Jill.
AUDITION FORM (Click the link to download)
Please feel free to contact us for more info or questions at justoffbroadwaymd@gmail.com!